Hospitality Management Major
Our Hospitality Management program is accredited by ACPHA (Accreditation Commission for Programs in Hospitality Administration). It is the ONLY accredited four-year hospitality management program in Louisiana.
Student job placement within three months of graduating in full time employment:
2019-20 90% (full time employment) with 87% in hospitality industry
2018-19 95% (full time employment) with 85% in hospitality industry
2017-18 100% (full time employment) with 83% in hospitality industry
Our curriculum focuses on travel and tourism, with an emphasis on successful management and promotion of all hospitality features: entertainment, conventions, attractions, lodging, food service, tourism and transportation. We provide a strong technical foundation alongside hands-on experiences in all aspects of hospitality management. 
Applied Food Service Management Lab: Operation of the Hospitality Management on-campus casual dining restaurant and commercial kitchen, "Lunch Club". 
Food Preparation Lab: Features kitchen units where students learn food safety and preparation techniques. 
800 hours of work experience plus 150 hours of internship
Local & statewide learning opportunities
State and national convention attendance options
Student organization involvement
Our Ragin' Hospitality Association business student organization provides opportunities to network and get involved in the hospitality management industry.
Moody College of Business also offers an MBA with a concentration in hospitality management on campus and 100% online.
Students can earn valuable resume building national certifications while obtaining their degree:
Servsafe Food Manager Food Safety Certificate, National Restaurant Association Education Institute (valid for five years)
Servsafe Alcohol Certificate, National Restaurant Association Education Institute (valid for four years)
Certification in Hotel Industry Analytics, American Hotel & Lodging Association Education Institute (valid for five years)
Our three year retention rate percent of students (freshmen to sophomore) in the major:
2019-2020       88.9%
2018-2019       50.0%
2017-2018       45.5%
What can I do with a hospitality management degree?
Hospitality management graduates have opportunities worldwide to manage food service operations, travel and tourism, lodging, guest services, entertainment, events, and more. You can travel or stay local with a hospitality management degree, with job prospects in hotels, restaurants, cruise ships, catering companies, resorts, parks, casinos, and airlines. You will be prepared for with internships, job shadowing, and hands-on learning lab experiences.
eBrochure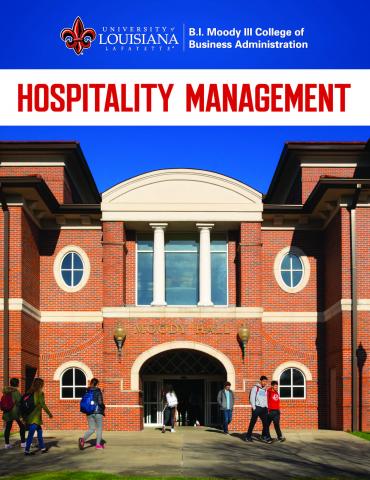 Hospitality Management Program
Our Mission
The Hospitality Management program prepares undergraduate students to be leaders in the management of hospitality and related businesses in a global economy by providing core competencies and experiential learning opportunities.
Hospitality Management Program Learning Outcomes
Our graduates will:
1. Demonstrate content knowledge in Business Administration.
2. Demonstrate content knowledge fundamental to resource management, controlling, and managing hospitality operations.
3. Exhibit effective teamwork and leadership.
4. Display effective oral and written communication.
5. Exhibit effective problem solving and critical thinking skills essential to hospitality operations.
Hospitality Management Program Advisory Board
Members of the Hospitality Management program advisory board provide professional insight to assist us in acheiving our mission. View the Hospitality Management advisory board.